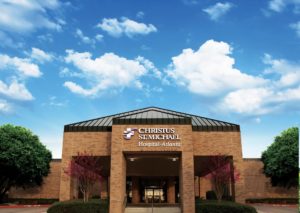 CHRISTUS St. Michael Atlanta Foundation was established to seek, receive and administer donations and gifts for the benefit of CHRISTUS St. Michael Hospital – Atlanta.
CHRISTUS St. Michael Hospital – Atlanta is a non-profit health care facility, the only hospital in Cass County and employs approximately 200 associates, physicians and others that provide care and support of patients in Atlanta and surrounding communities.
Extending the Healing Ministry of Jesus Christ
CHRISTUS Health is listed among the top ten largest Catholic health systems in the United States.
Sponsored by the Sisters of Charity of the Incarnate Word in Houston and San Antonio and the Sisters of the Holy Family of Nazareth, the mission of CHRISTUS Health is to extend the healing ministry of Jesus Christ.
We are inspired by the mission, vision and core values to deliver compassionate, high quality health care, thus improving the health of the communities served.
Above all, we are committed to providing our patients and their family members with a truly unique healing experience, one that embodies our values and respects the dignity and worth of each person. Creating a health care system that is truly excellent in all areas is an ongoing effort.